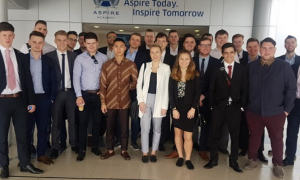 Operation Inspire Amazing
29/06/20
25 Graduate students and two lecturers from UCFB, Wembley Stadium – "the home of football". The sheer enormity of the task we had taken on really dawned on me that day when I found myself walking up Wembley Way to the main entrance of the national stadium. "What was I doing?!" I thought to myself. If things didn't go to plan I knew that the good we were trying to achieve would have been all lost. At that time there was no itinerary but just raw belief that Qatar would live up to the hype and would not let anyone down. Fast forward to the 19th of January 2019, the party of 27 had arrived early and I could not slow down time anymore. It was sink or swim. Convened outside arrivals at Hamad International, we had to do everything we could do to make sure we didn't let anyone down.
Day One
Our journey began with a magnificent tour of Khalifa Stadium and it's amazing facilities. This was thanks in no small part to Mr Nasser & Mr Abdulaziz of QSL who were tremendous hosts. Succeeding them was Collin Allan of Burrda Sports giving us an incredible insight into growing an international sports brand. Fabien Dilem; general manager of the EMEA & India department for PSG gave a masterclass into the operations of such a globally renowned club. Some interesting topics included the French club's recruitment policy, commitment to community and latest venture into E-Sports. Our trip concluded with a surprising encounter with the England ladies team and manager Philip Neville who was kind enough to pose for a few pictures and field some of our questions. His team were completing their training camp in Doha in preparation for this summer's World Cup Finals in France.A trip that evening to the Villaggio shopping centre and Souq Waqif represented a fascinating tug of war between Qatar's history and future which encapsulates what they are hoping to achieve with the 2022 World Cup and beyond.
Day Two
Wow. Our group set off early Monday morning across the corniche to downtown Doha sprawling with skyscrapers containing none other than Al-Bidda tower which was the setting for our visit to the Supreme Committee for Delivery & Legacy. Left in the very capable hands of Vazken Kurkjian, Mr Sulimani and Matthias Krug our group was giving an all access tour of the pavilion. Showcasing some of the latest smart technologies and informing us of their commitments to community and legacy we were left certain of what enormous impact the 2022 World Cup will have on this wonderful country and further afar. After their nearly three hour demonstration we were then escorted to the summit of Al-Bidda tower providing a jaw dropping view of the corniche and Doha. Gordon Penney; tasked with leading the Supreme Committee delivered a masterful speech on resilience within the workforce and the importance of emotional intelligence. His team in doubt will not be lacking in grit and determination as they seek to deliver the 2022 World Cup.Next up were Demetris Zenetos and Sergio Bravo of the QFA who delivered a presentation on the strategic objectives and mission of the organisation. The speech was no doubt an eye opener given the majority of our group were supporters of European football clubs. Despite the plethora of resources available to most of the QSL teams Demetris and Sergio spoke of the inherent limitations as to growing the league. Their excitement was infectious as they spoke about the magnificent CSR operations in full effect along with the possible socio-economic developments they hope will be derived from the build-up to 2022 and the finals itself. If it was not evident from our earlier visit of the Josoor Institute every organisation in Qatar tasked with delivering an aspect of the 2022 finals were taking the slogan of "generation amazing" to heart. Afterwards our group dissembled and departed for the Aspire Academy complex which hosted four of Russia's top clubs had gathered for the week as part of their pre-season training. Thanks to Feras Btaddini, head of Aspire dome we received free tickets for the Spartak Moscow – FC Rostov game which provided a fitting way to close the day's activities.
Day Three
Today our group enjoyed a lie in given the excursions of the previous two days! Just after midday we ventured north into the outskirts of suburb Doha towards the remarkable Lusail Stadium which will host the opening match and final in 2022. Afterwards a quick brief trip to Al-Bayt stadium where construction was also very much in progress. Our tour then headed for the Qatar University where we were greeted by Dr.Mafoud Amara of the Sport Science programme. Dr.Mafoud shone some light on the interesting research projects his team are currently undertaking. He also gave some interesting observations as to the positive social consequences which would stem from country's hosting of the 2022 World Cup. Shortly after our visit to Dr.Mafound's office we were accompanied to the sports playing facilities at the University grounds. A surprise match against six time Qatar National University Champions then ensued. What amazed me was how the group organised themselves in such a quick time frame. Despite succumbing to a 1-0 loss their camaraderie and determination shone through and definitely helped to forge even closer relationships among all of the guys. A fantastic example as to the power of football and one which will certainly live with me forever. Following that was a tour of the Doha Corniche on a traditional Qatari dhor which presented us with numerous opportunities to grab a picture of the iconic Doha skyline. I think all our travelling party hit the bed equally tired as happy given the day which had unfolded. Little did they know of tomorrow's surprise.
Day Four
This morning we ventured towards the Abdullah bin Khalifa stadium home of Al-Duhail; last year's quadruple winning side. Abdi Rahman Abdi Ismail; public relations manager delivered a fantastic insight as to the operations of one of the QSL's biggest clubs. We were given an all-access tour of their stadium and training facilities which would put most of Europe's finest to shame. Once more convened in the press room located in the bowels of the stadium Abdi Rahman Abdi Ismail led a fantastic open Q&A. Despite their ambition to achieve continental success they spoke of an ambition to cultivate local home grown talent and focus on the resources already at their disposal as part of a 5 year plan. Their impending appointment of Jose Mourinho's former assistant Rui Faria echoes this sentiment. Upon leaving the complex of Al-Duhail we were exposed once more to the inherent kindness and generosity of the Qatari people when the club issued official Al-Duhail caps and scarves to each of the travelling faithful. Our group departed for the Marriott once more to recuperate quickly as their big surprise loomed . Thanks to the Qatar Tourism Association we were provided a trip to the Qatari desert. Located by the Sealine resort we were subjected to numerous activities ranging from camel riding to dune bashing. Making our way towards the Saudi Arabian border and as the sun set the vacant desert landscape made for some breath-taking views. True to the local hospitality we were then treated to some homemade Qatari tea and cuisine which certainly served to replenish all 27 bodies from the day's landmark event. Time and time again this great country surprises me as the day drew to a close.
Day Five
Perhaps in many eyes the most highly anticipated day of our group's visit to Qatar; a visit of the world renowned, Aspire Academy. PSG and Bayern Munich among others had recently completed Winter training camps at the facility yet now our little group were centre stage. Some of the world's leading sports practioner's in their respective fields including Feras Btaddini, Aisha Fonte and no less Professor Valter Di Salvo gave amazing insights as to the operations of the facility and conducted an all access tour. Aisha brought us around the indoor playing fields boasting the largest multi-purpose indoor playing surface in the world whilst cutting through numerous rooms and buildings reserved for the education of their thousands of students. As we reached the pools and hydrotherapy unit we were then taken over by the guise of Professor Di Salvo who has a wealth of experience in the world of football ranging from Manchester United to Real Madrid.Serving as director of football for not only Aspire Academy but also Qatar Stars League and Qatar Football Association Professor Di Salvo is obviously a busy man so to garner some of his unique insights and observations will live long in the memory. Some of the topics revolved around creating a comfortable working environment for all and also the importance of establishing clear open communication between staff, aspects which are applicable for all walks of life. To gain such information from a man who had once helped to nurture the talent of Cristiano Ronaldo was welcomed by all members of our group. Before our departure, Feras Bttadini head of the Academy invited us into his office for one final speech. Feras was a true symbol of the Academy's motto to "Aspire today to inspire tomorrow"."Inspire Amazing" is just what happened to a group of students from UCFB this week they didn't experience the bad press and connotations that seems to follow Qatar's every movement. They encountered friendship, hospitality, culture, education and a true passion to make a difference. What the Supreme Committee, Qatar FA and QSL are aspiring to achieve in accordance with 2022 is phenomenal. If organizations such as this and others can provide a legacy even a fraction of what they can we can create a better Qatar and a better World for all. Thanks is no small part go to my colleague's Jason Stephens, Anwen, Ashique, UCFB's Gustavo Spanholi and all of the 25 students that enjoyed the trip of a lifetime.Special thanks to Qatar Stars League, Aspire Logistics, Burrda Sports, PSG in Qatar, Supreme Committee, Josoor Institute, Generation Amazing, Qatar National Tourism Association, Qatar Football Association, Qatar University, Al Duhail Football Club, Aspire Academy, Museum of Islamic Art, Arabian Adventure you all really did inspire the next generation. Inspiring the young and allowing them to tell their own stories has the ability to change the world. They are our future.