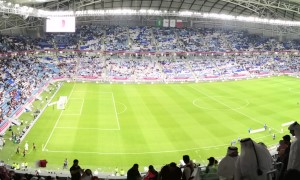 Football Is Revived – La Liga is Back!
22/06/20
Football across the globe has largely been sidelined due to Covid 19. As countries begin to lift their lockdowns, European football is back on the agenda. Germany`s Bundesliga was one of the first to restart and The Spanish LaLiga will resume on June 11th.
There has no football in LaLiga since March 12th. Thats 72 long, long days without seeing Lionel Messi or the Galacticos in action. FC Barcelona and Real Madrid are fighting for the title with just two points between them. The remaining 11 rounds will be contested within a 40 day period of non stop football. Enjoy every match live on Qatars BeIN Sports!
In The Game Podcast
In The Game – Qatars only Sports Podcast – hosted by Steve Mackie – had exclusive access to the recent LaLiga press conference. Spanish legend Gaizka Mendieta who made 40 appearances for Spain and played for Valencia, Lazio and Barcelona was on hand to answer questions. This is what he had to say.
In The Game – Do you think the lack of training due to the lockdown will affect performances on the pitch?
Gaizka Mendieta – Of course it will have an impact – especially in the first game. I was reading a very technical report recently about the number and length of sprints and recovery time. This was comparable to what has been observed in Bundesliga so we can understand what is coming. In terms of the whole game, I do not think we will see a huge difference. I think it will take 2 to 3 games for the players to adapt to the pace.
In The Game – In the Bundesliga home teams are losing more than before. Do you think the lack of atmosphere will affect results?
Gaizka Mendieta – Yes the home factor is not as it used to be, so there are more away victories. But of course players and teams will adapt and Real Madrid will also have to adapt to playing away from the Bernabau. LaLiga have been working hard and are going to put atmosphere sounds in the stadiums to try and replicate real life games. There has also been an initiative with fans uploading applause for their team which will be played when players run onto the pitch. Teams and players will have to work hard mentally to understand that fans are not there.
In The Game – We talked about how the fans are excited that LaLiga is back. How excited are the players?
Gaizka Mendieta – Yes, I have been talking to many players, they are excited. The enthusiasm the players will bring will make up for the lack of intensity normally created by fans. You have to remember that not all the players live in big houses with big gardens, some of them live in apartments. So during lockdown they have not been able to practise in the way they like. Only recently did they get back to training. Thats why I think Real Betis v Sevilla is the best game we could have to restart with. It is not only one of the biggest games in LaLiga but in the world. It will be played with great passion.
Step by Step Process back to Football
LaLigas restart is possible due to extensive collaboration between LaLiga and the Spanish health authorities. Players returned to training on the 8th of May. The wellbeing of everyone involved is number one priority and a comprehensive 4 stage plan was agreed.
The initial step saw players having to return negative tests which then led to a gradual build up of training. This step by step process largely mirrors global governments and their plans to gradually phase freedoms and normality back into everyday life. Innovative New TV for Armchair Fans
Last season LaLiga reached a global TV audience of 2.7 billion and have introduced new ways to engage armchair fans. Virtual sound will be broadcast and stands will be virtualised to appear full. Sound will be adapted to the flow of the game and react to goals and fouls. Images of seated fans will be seen wearing the home clubs colours.
Inventive broadcast opportunities have resulted from the loss of real life spectators. Innovative new camera positions can be found where previously spectators would have been sitting. The aerial camera will offer more shots while robotic cameras will be used in the tunnel areas.